Current Exhibition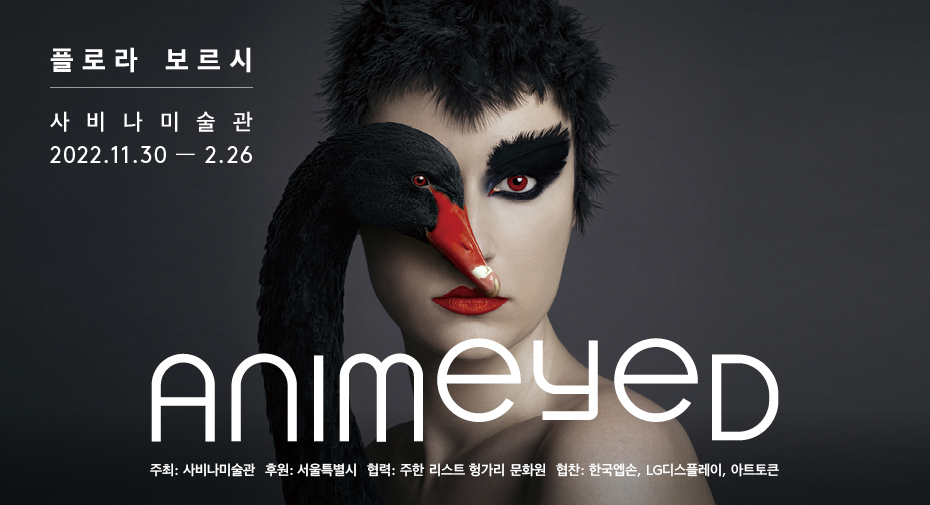 ANIMEYED
Exhibition Division
Solo
Exhibition Venue
Savina Museum 2-3F
Exhibition Dates
2022-11-30 ~ 2023-02-26
Genre/Artworks
Media , Photography / Total 47
Artists
Flora Borsi
Savina Museum(Director: Lee MyungOk) hosts the solo exhibition of Flora Borsi, 《ANIMEYED》, in commemoration of 33th anniversary of Korea-Hungary diplomatic relations. This exhibition features 47 artworks including photography series, where image of animal's eyes are shared with the artist's, along with new works, and NFTs, which will be presented for the first time in Korea.
The series, whose title is a compound word of 'animal' and 'eye', are signature works of Flora Borsi. When the artist was taking selfie with her dog, the artist have felt strong bond that she started to work with the image of sharing the eyes with animals. To create image which becomes one with animal by sharing eyes, the artist explores the characteristics of the animal and put a make up to fit in the animal's uniqueness such as color and figure. After taking pictures with make up, background, light condition exposing the characteristics of the animal, the artist makes post-production using computer graphic to connect the animal eye with hers.
Through the human sharing the eyes with animal and ourselves looking through with these animal eyes, this exhibition presents the way of coexistence and communication between human and animal to understand each other. The exhibition is one of the series from 2022 Savina Museum's exhibition which conveys the message of environment problems and coexistence. Furthermore, by introducing the exhibition where surrealistic and captivating artworks of Flora Borsi is showcased, and providing the opportunity to meet Hungarian visual art, the exhibition will become an exemplary case to strengthen the base of cultural exchange between Korea and Hungary.
Flora Bori's works have been globally introduced through exhibitions in The Louvre(France), The Hungarian National Museum(Hungary), and Saatchi Gallery(UK) etc. The artist was selected as the loading screen model of Photoshop(2014) one of 30 artists under 30 by Forbes(2020), and Hasselblad Heroine(2021). She won the 1st place gold medal in American Art Awards(2016), and 1st place of Lorenzo ikl Magnifico Award, Florence Biennale, and created CI for Adobe Creative Cloud(2019).
Organization: Savina Museum of Contemporary Art
Support: Seoul Metropolitan Government
Cooperation: Liszt Institute Hungarian Cultural Center Seoul
Sponsor: Epson Korea, LG Display, ARTTOKEN